Protection covers
Do you have a swimming pool?
Also called winter- or safety covers, made of a very strong UV-protected fabric, and strapped over the pool. This concept allows winterizing the pool without draining but can be used all year round.  The loss of water through evaporation and the growth of algae are reduced, which means less or even no maintenance, and important savings on chemicals.
The pool will be protected against leaves and debris, and the cover is strong enough to ensure children and animals cannot accidentally fall into the water.
Our suppliers provide a wide selection of different colours as well as various systems for a safe fixation, and due to a long business relationship, our company is favoured, which, when necessary, can shorten the delivery time.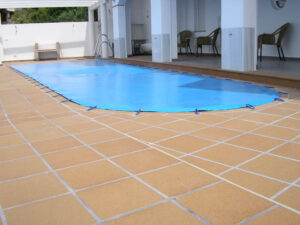 Thermal pool covers
These types of covers are used for minimizing heat loss through radiation and evaporation. For heated pools, a thermal cover is a must. Moreover, when using a pool heat pump savings of 50-70% are possible. Pool covers of many different materials and colours are available, the most popular types being made of a special material using innovative air pocket technology. They are strong, transparent and treated to resist the sun's harmful UV light. In addition, closed cell covers are provided.
To manage a pool cover for a normally sized pool, most of our customers prefer to use a rolling device. We know these can be a nuisance, but with over 20 years experience in dealing with pools, we are well placed to advice. Fully automatic sliding covers and transparent pool enclosures are also available, and for those who prefer a solar driven solution, there are now new models on the market.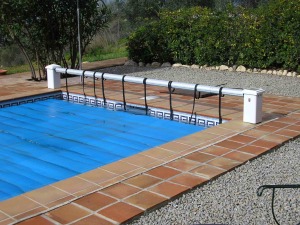 Técnicas Maro
Installing and servicing heating, cooling and solar energy systems on the coast since 1992